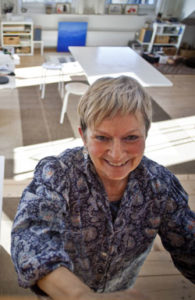 Biography
Born in Lausanne, Switzerland. She pursued extended studies in human sciences interrupted by a 1980 stay at the Istituto per l'arte e il retauro in Florence followed in 1983 by another stay at the Art Students' League in New York. She attended in the studio of Richard Poussette Dart, then the youngest exponent of abstract expressionism, which was to prove crucial to her artistic development. Then she entered professional life, split between painting and an independent profession. For a decade, she alternated between her two callings, managing to carry on a singular existence marked her determined effort to protect her creative life.
In 1985, she opened her first studio, providing her with suitable facilities that enabled her to produce large-format works. In 1987, her first personal exhibition propelled her in a direction which she was henceforth to follow. In 1993, she gave up the security of her professional activities to focus exclusively on artistic creation with all its attendant demands.
She has lived in the country since 2007, with her studio and living area under one roof.
Bibliography
THEN COMES SUMMER
Mont.s.Lausanne 2016, 110 p.
Read the book
Personal exhibitions
2017
Galerie Artesol, Solothurn
Switzerland
2016
Fondation l'Estrée, Ropraz
Switzerland
2014
Haute École Pédagogique, Lausanne
Switzerland
Fondation Siloah, Gümlingen, Bern
Switzerland
2013
New Hall Art Collection, Cambridge
United Kingdom
2012
Flon-Art, Lausanne, Mezza Voce II
Switzerland
2011
Atelier de Grandvaux (small formats)
Switzerland
2010
Atelier de Grandvaux (small formats)
Switzerland
2009
Galerie Edouard Roch, Ballens
Switzerland
2007
Atelier de Grandvaux (small formats)
Switzerland
2005
Fondation l'Estrée, Ropraz
Switzerland
2004
Galerie Pomone, Lutry
Switzerland
1999
Ferme de la Chapelle, Grand-Lancy, Geneva
Switzerland
1997
Galerie Planque, Lausanne
Switzerland
1994
Galerie Planque, Lausanne
Switzerland
1992
Galerie Planque, Lausanne
Switzerland
1989
Galerie Point, Lausanne
Switzerland
1987
Galerie France, Lausanne
Switzerland
Collective exhibitions
2016
Ferme de la Chapelle, Grand-Lancy, Geneva
Switzerland
2014
Villa Dutoit, Geneva
Switzerland
2010
Ferme de la Chapelle, Grand-Lancy, Geneva
Switzerland
2006
Galerie Suisse des arts, Lausanne
Switzerland
2003
Fondation l'Estrée, Ropraz
Switzerland
2000
Galerie Nane Cailler, Pully
Switzerland
1999
Galerie Planque, Lausanne
Switzerland
1996
Galerie Planque, Lausanne
Switzerland
1994
Galerie Planque, Lausanne
Switzerland
1993
Galerie La Ratière, Romont
Switzerland
1983
Art Students' League, New York
USA
Public collections
Banque Raiffeisen, Moudon
Switzerland
Hôpital Rive-Neuve, Blonay
Switzerland