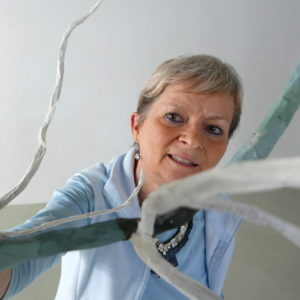 An unusual career, very different from most artistic paths…
Painting and creation in general have always occupied the artist's life. After law studies at the University of Lausanne, during which she always had her brush to hand, followed by a doctorate, in 1983 she went to the Istituto per l'arte e il restauro in Florence in order to get back to the 'essentials' as they were taught at the time. Having qualified as a lawyer, she took a sabbatical year in order to devote herself entirely to painting. She spent a good part of that year in New York, at the studio of Richard Pousette Dart, the youngest representative of abstract expressionism. On her return, she divided her time between practising at the Bar and painting, finally deciding in 1993 to give up her law practice and paint full time.
…and creation which is open to current environmental problems
The artist has always wondered about the 'mysteries' of the creative process: how can it be nourished, how can you free yourself from the intellect's restrictive injunctions whilst accepting those that are necessary, the role played by 'accident' in that process… On such questions, nature, observation of it and of its creative ingenuity have been and remain her guides. Trees in particular, stretched between two opposing forces, both vital for its growth, have always filled her with wonder. During her time in New York, she painted them incessantly, at the same time rooted in the earth and touching the sky. She has continued to be inhabited by them ever since, even during her most abstract creative periods. Since 2010, trees have once again made their presence felt and are at the very heart of her aesthetic research. Trees invite us to marvel at the complexity of nature and take inspiration from it to try to solve the environmental problems threatening our planet.
In 2018, the artist decided to contact researchers in order to share with them her dazzling insights and her environmental concerns, and develop a synergy that might be accessible for the general public. In 2021, the exhibition between art and science "AND WHAT ABOUT TREES TOMORROW?" at the Espace Arlaud, a museum in the center of Lausanne (Switzerland) gave concrete expression to this new departure.
Bibliography
THEN COMES SUMMER
Mont.s.Lausanne 2016, 110 p.
Read the book
TREES AND POETS
Mont.s.Lausanne 2021,
wooden box, 85 p.
Extracts from the box
Personal exhibitions
2021
"Et les arbres demain?", Espace Arlaud, Lausanne
Switzerland
2019
Musée botanique, Lausanne, guest artist at the DurArbrilité exhibition
Switzerland
2018
Atelier de Grandvaux (small formats)
Switzerland
2017
Galerie Artesol, Solothurn
Switzerland
2016
Fondation l'Estrée, Ropraz
Switzerland
2014
Haute École Pédagogique, Lausanne
Switzerland
Fondation Siloah, Gümlingen, Bern
Switzerland
2013
New Hall Art Collection, Cambridge
United Kingdom
2012
Flon-Art, Lausanne, Mezza Voce II
Switzerland
2011
Atelier de Grandvaux (small formats)
Switzerland
2010
Atelier de Grandvaux (small formats)
Switzerland
2009
Galerie Edouard Roch, Ballens
Switzerland
2007
Atelier de Grandvaux (small formats)
Switzerland
2005
Fondation l'Estrée, Ropraz
Switzerland
2004
Galerie Pomone, Lutry
Switzerland
1999
Ferme de la Chapelle, Grand-Lancy, Geneva
Switzerland
1997
Galerie Planque, Lausanne
Switzerland
1994
Galerie Planque, Lausanne
Switzerland
1992
Galerie Planque, Lausanne
Switzerland
1989
Galerie Point, Lausanne
Switzerland
1987
Galerie France, Lausanne
Switzerland
Collective exhibitions
2019
Fondation l'Estrée, Ropraz
Switzerland
2016
Ferme de la Chapelle, Grand-Lancy, Geneva
Switzerland
2014
Villa Dutoit, Geneva
Switzerland
2010
Ferme de la Chapelle, Grand-Lancy, Geneva
Switzerland
2006
Galerie Suisse des arts, Lausanne
Switzerland
2003
Fondation l'Estrée, Ropraz
Switzerland
2000
Galerie Nane Cailler, Pully
Switzerland
1999
Galerie Planque, Lausanne
Switzerland
1996
Galerie Planque, Lausanne
Switzerland
1994
Galerie Planque, Lausanne
Switzerland
1993
Galerie La Ratière, Romont
Switzerland
1983
Art Students' League, New York
USA
Public collections
Banque Raiffeisen, Moudon
Switzerland
Hôpital Rive-Neuve, Blonay
Switzerland